Jump into Cape Town's magical ocean with us and discover a colourful wonderland. The Great African Kelp Forest is 1 of 9 sea forests globally and the only one in Africa. Teeming with colour and life, there is no place quite like it. We will explore the kelp forest and possibly encounter schools of fish, seals, penguins, small sharks, octopus and curious sea creatures.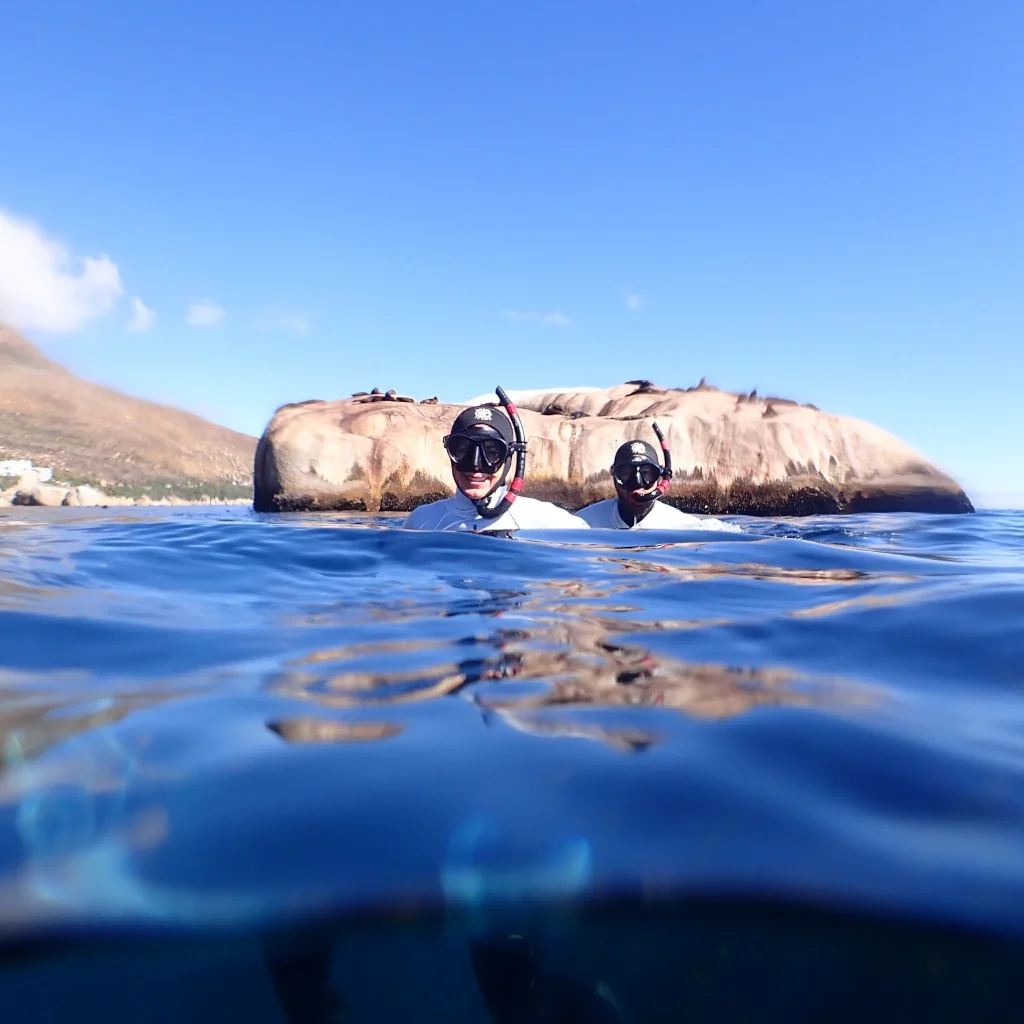 All gear is provided to ensure that you feel as warm, ready and comfortable as possible. We will also have a safety surface buoy with us during the snorkel to hold on to and store any items. Bring your swim wear, towel, sunscreen and an underwater camera if you have one. We will take care of the rest.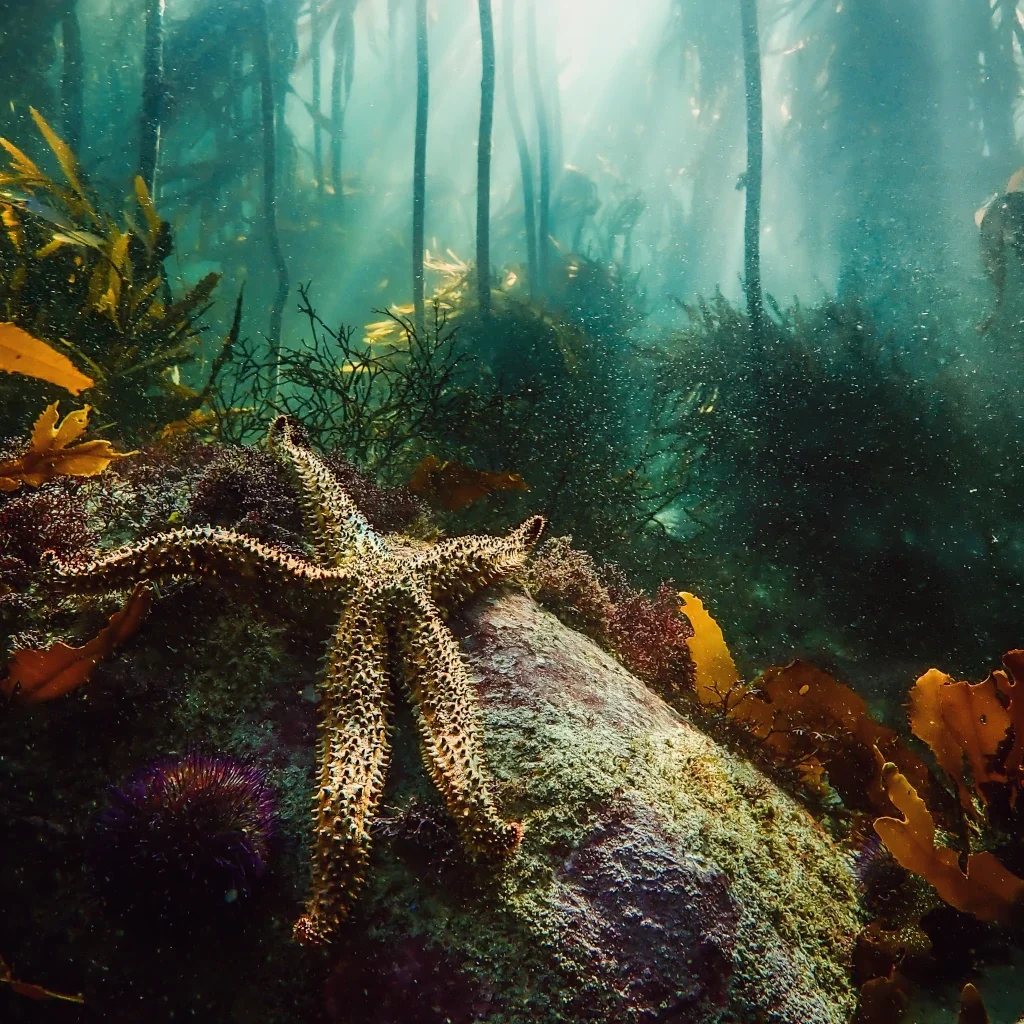 Our snorkel experiences are led by ocean-loving certified freedivers and instructors who have gained vast insights and understanding of the fauna and flora that make our ocean unique. Let us guide you through the kelp and share many of its secrets with you.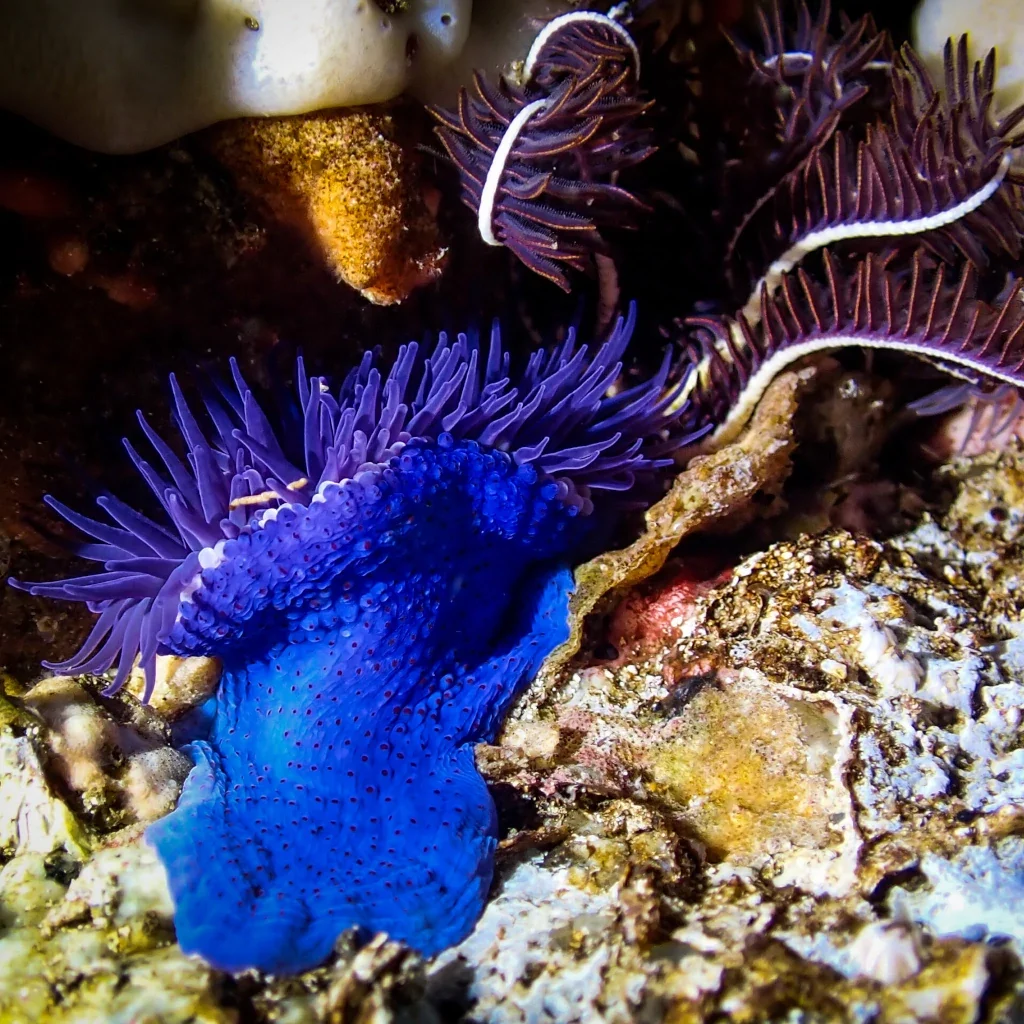 Snorkeling Experience: R775 Half Day
We start with a warm welcome & briefing at our freediving centre in Muizenberg.
We introduce the chosen snorkeling site, provide information on what to expect in terms of marine life, explain how to use the equipment and answer questions.
Our chosen locations for snorkeling in Cape Town are always accessible from shore and selected based on the latest ocean conditions.
We provide you with a high quality 5mm wetsuit to keep you warm and other assorted snorkeling gear.
Our snorkeling guide will then take you into the water and lead you through your aquatic experience.
Finally we exit the water, debrief, get changed and reflect on our shared ocean adventure!
The experience includes:
Use of 5mm wetsuit, gloves, mask, snorkel, fins & socks
Safety surface buoy to hold on to as well as store water & cameras if required.
We will be taking photos to share after the experience, but do bring your own UW camera if you have one.
Optional extras:
Underwater action camera rental R350 – the 16GB micro SD card with your videos and photos of the experience is yours to take home.
Snorkeling in Cape Town is a truly unique experience. Our ocean adventures serve to awaken a deep connection to nature and Mother Ocean. Come with a curious mind, be inspired and leave feeling refreshed and in awe.
This was on my bucket list for this visit to Muizenberg, and yes, after watching the documentary movie, 'My octopus teacher'. If I must use one word to describe this experience it would be 'magical'. Stephan was such a great host, knowledgeable, super friendly and eager to share his free diving passion and love for the ocean with us, outside and inside the water. The whole group arrived excited and ready to explore the ocean and the beauty she has to offer and we were not disappoint. I felt so alive when we got our of the water. Daniela although we did not get to meet you, your communication was top notch and on point. Thank you. I will definitely encourage all my friends to consider this experience. It is a MUST DO! Thank you guys and yes, you will see me again.
The whole experience was amazing ! The instructor was very informative about the sea life and patient with us . We could tell our safety and enjoyment was his top priority. Highly recommend you take up the experience for yourself! You won't regret snorkeling Cape Town's beautiful kelp forest.
Martin is an awesome guide! He showed me creatures I definitely wouldn't have spotted, including an octopus!!! It was so cutey and I'm impressed that he saw it cause it was hidden and camouflaged 🙂 He continuously made sure I was comfortable and having a great time, and the kelp forest is really cool to see from within. It's amazing, highly recommend.
Cape Town FreeDiving provided myself and my girlfriend the best experience of our lives. My girlfriend is a great swimmer but I cannot swim at all. This was no problem at all as Stephan took his time to explain everything to me and was extremely patient with me until I got my breathing right. Thereafter we were able to see the most magical world in the sea. Stephan taught us so much and my life kept changing as we went deeper and deeper into the ocean. At no point was I afraid for my life as Cape Town FreeDiving had fully secured and still gave us enough freedom to see the Sea World at our own pace. They very graciously recorded us and took wonderful pictures which were sent to us. Overall the best experience of my life and I conquered my greatest fear and will definitely be back in future.