FREEDIVING COURSES IN CAPE TOWN
Cape Town, the jewel at the tip of South Africa, is the perfect place to explore the incredible world below the waves. We offer an incredible mix of freediving and snorkeling opportunities from seal and kelp forest adventures to training in freshwater lakes and world-class swimming pools. Our recreational adventure courses are for those who want to explore our amazing oceans and our sport courses are for those who want to enter the world of competitive freediving.
Adventure is only one breath away.
We all love numbers… especially sport freedivers. Here are some of ours.
Years of Teaching Experience
We have been teaching the highest quality freediving courses since 2012.
We have introduced thousands of people to the amazing sport of freediving and transformed their lives in the process.
National Freediving Records
Our instructors are experienced sports freedivers who have excelled in competitions locally and abroad.
Entering the world of freediving is a life-changing step! Your mind and body reset and allow you to redefine your beliefs in what you are capable of and what is truly important in life.
The initial body-mind benefits of freediving may include:
Improved breathing patterns and oxygen efficiency
Reduced stress and anxiety
Increased relaxation and feeling of calm
Increased body awareness, fitness and flexibility
Improved mood, focus and self-belief
Improved stress-resilience and energy
The demands of modern day living create unhealthy levels of stress for most people. Freediving offers a meaningful way to get outside, destress, connect with nature and like-minded people. It opens the door to adventure – exploring and learning more about yourself and the underwater world in the process. Many of our students speak of finding a new purpose, connection to and compassion for the natural world and experience a positive change in lifestyle.
What Our Students​​ Say About Us
I can recommend doing your Freediver certification at Cape Town Freediving because their standards are impeccable, you get personal attention and you immediately join a community of caring, passionate people who cheer each other on and are working together to take care of our ocean.
Together with two friends I took the Surf Apnea Course - and again, my mind got blown away. After taking the course, we definitely feel so much more prepared to be able to face some serious hold-down moments and big sets of waves in a calm way. Not only life saving but also mind-opening - highly recommended - as a surfer, future-to-be freediver or just water-loving soul.
Learning to freedive with John and Daniela was a first class experience! Being an absolute novice with zero experience (apart from the occasional snorkelling session), John was a phenomenal teacher in helping myself and two friends understand the science behind freediving as well show us the true beauty of it all. He taught us how to mentally challenge ourselves and we have taken lessons out of this course that go beyond freediving. It takes a world class teacher to sum up a group within minutes of meeting them and understand the perfect way to present the information to them and understand each persons requirements.
I did the Adventure Freediving course with Cape Town Freediving earlier this year. Although I am quite comfortable in the water, I still felt super nervous about the technical elements of freediving when signing up. Stephan (dive instructor) made me feel so relaxed and really took the pressure off. I learned so much in two days and have met the most amazing community of people who share a love for the ocean. I would HIGHLY recommend Cape Town Freediving to anyone wanting to explore this wonderful hobby! I am totally addicted.
I had a really good free-dive experience with John and 2 other students. 1 on 1 attention was great and all questions were answered based on thorough sport knowledge and personal instructor experience. Theory training was done in a peaceful yoga studio which allowed me to reach my personal best in breath holding, safely and calmly. The highlight was encountering a gam of gully sharks - beautiful creatures swimming between the kelp's off Millers point. I recommend this course!
Very passionate and knowledgeable team. a must for tourists and locals alike. I did an apnea course with the main aim of increasing my confidence. There wasn't a worry or a theoretical question I could come up with that they couldn't handle with ease. Really great fun.
What a great experience, will definitely recommend this to anybody that either want to learn something new or progress as a freediver. Extremely knowledgeable, crew makes you feel comfortable and relaxed. They really make you feel part of there freediving family.
Learning to freedive with John, Daniela & Stephan was magic! Thorough, professional, and crazily passionate about building a beautiful freediving community in the best city in the world 🙂
The team at Cape Town Freediving are absolutely fantastic. They're so good at taking complete beginners and getting them comfortable with freediving.
The course was exactly what I had always wanted it to be, and what a freediving course should be. It doesn't skimp out on, or water down the safety side of things.
I had an unforgettable experience with Cape Town Freediving ! The course was professional and well-organised. I learned a lot, both practically and theoretically and the instructors, Stephan and Ruan were able to answer all of my questions. Thank you Daniela and team for inviting me into the CTF community!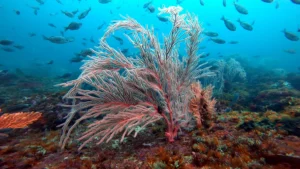 Sea fans, also known as gorgonians, are a group of soft corals belonging to the phylum Cnidaria, within the class Anthozoa. These sessile colonial animals thrive in a variety of marine habitats, from shallow coral reefs to deeper continental slopes. Found predominantly in tropical, subtropical, deep sea and polar environments, their presence contributes significantly to
Read More »