The galjoen (Dichistius capensis) is a marine fish species native to the waters of South Africa. Characterized by distinctive silver-grey coloration, and an elongated body shape with a deeply forked tail, these striking animals are an important ecological component of South Africa's coastal ecosystems and are highly regarded due to their status as the country's national fish.
Galjoen are known for their ability to survive in a number of coastal habitats. Found primarily on rocky reefs and in kelp forests, galjoen populations range from the Orange River on the west coast to KwaZulu-Natal on the east coast. They are a slow-growing, long-lived species, with some individuals reaching up to 21 years of age! Despite their extended lifespan, galjoen remain relatively small, typically measuring between 30 and 60 cm in length and weighing between 1 and 3 kg.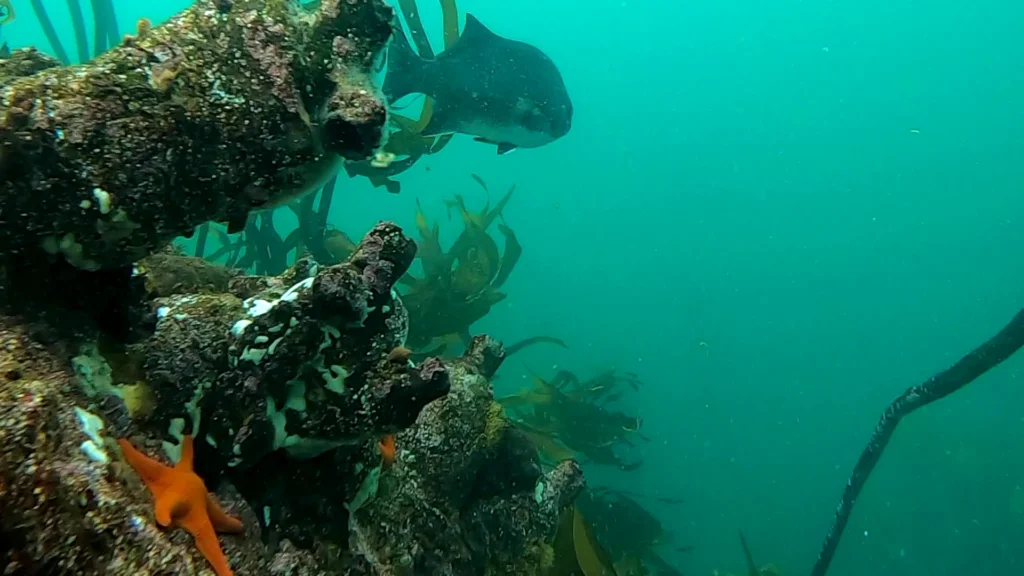 Galjoen are primarily herbivorous, feeding on a variety of algae and seaweed species found in coastal marine habitats. Their feeding behaviour is however strongly influenced by the availability of food, and they are known to consume small invertebrates, such as crabs and molluscs, when plant material is scarce. The rocky inshore habitats typical of southern African waters provide ample food sources and shelter for this species.
The preferred locality of galjoen populations is inshore reefs, however some individuals have been observed to undertake seasonal migrations in response to changing environmental conditions, such as water temperature and food availability. We tend to spot these iconic fish while snorkeling and freediving in MPA no-take areas along the False Bay coastline and on the Atlantic Seaboard in the Cape Point Nature Reserve. During the winter months, they may move into deeper waters to avoid cooler temperatures, while in the summer months, they may retreat closer to shore to take advantage of the abundance of food. The species' breeding season typically occurs between October and March, where males will compete for access to females. Galjoen are protogynous hermaphrodites, meaning that they start their lives as females and typically change sex when the fish are between 4 and 8 years of age.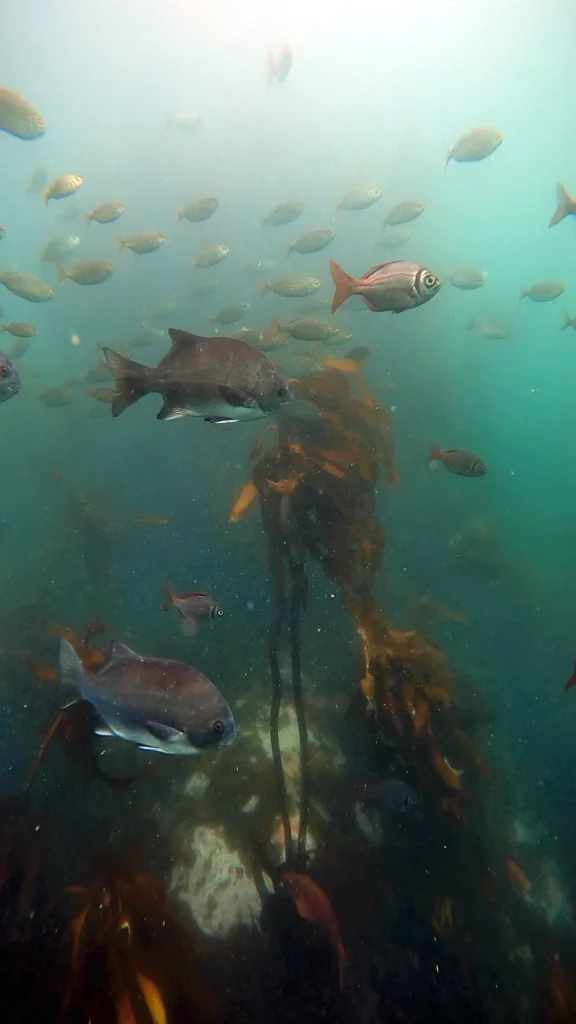 Despite their importance to South Africa's coastal ecosystems, galjoen are a popular angling species and highly sought after by recreational and commercial fishermen alike. In addition to overfishing pressure, their slow growth and long lifespan make them particularly vulnerable to other anthropogenic factors, such as habitat degradation, pollution, and climate change. Due to their sensitivity to environmental change and transformation, the presence and abundance galjoen populations can provide valuable information about the overall health and productivity of the ecosystem. Monitoring changes in galjoen populations over time can help to identify potential threats to the ecosystem and inform conservation efforts and effective management practices. In response to a decline in the galjoen population in recent years, the South African government has implemented a number of conservation measures to protect the species, including catch limits, size limits, and the establishment of Marine Protected Areas (MPAs) where fishing is prohibited. Although it is legal to catch galjoen while adhering to permit regulations, it is illegal to purchase or consume, as it is listed as a Red species by the WWF South African Sustainable Seafood Initiative (SASSI).
The conservation of this iconic species is imperative – both for the health and functioning of national coastal ecosystems, as well for the preservation of the archetype representing all of South Africa's fish species.