Cape Town Freediving Clip Of The Week 13:
The freediving scene in Cape Town has evolved considerably in the last 10 to 15 years. As in many places, freediving was initially the domain of the hunters who freedived to shoot fish and catch crayfish. In the late 1990s and early 2000s a handful of sport freedivers popped up and started competing mostly overseas. In the 2010s a small, but active community of competitive pool freedivers developed and have continued to train in pools around Cape Town. Then Pure Apnea developed the recreational Adventure Freediver courses and Cape Town exploded with freedivers who wanted to explore the oceans around Cape Town with the intent of viewing and interacting with marine life. These freedivers were not interested in pushing limits to see how deep they could freedive. However, sport freedivers who wanted to dive deep were restricted to 42-45m of depth available in Blue Rock quarry in Somerset West. If you wanted to dive deeper, you needed to travel overseas to one of the deep water freediving hotspots like Dahab, Amed, Moalboal or Panglao. This is about to change as a small group of deep freedivers have begun unlocking the potential for deep freediving in False Bay. Our clip of the week features one of these freedivers, Paul Winter, freediving 47m at one of the +60m sites on the eastern side of False Bay.
Depth training in False Bay has slowly started developing for pretty much one reason, the Great White sharks have left the bay. Thanks to Port and Starboard, the now famous or infamous orcas, the Great White sharks disappeared from False Bay. An alternative theory is that commercial fishing of smooth-hound sharks and soupfin sharks depleted the Great Whites' main food source. Regardless of why, the Great White sharks have not been sighted in False Bay for the last few years. This has opened up the option of depth training from shore. Cape Town Freediving now uses the D-frame dive site for intermediate/advanced courses where 30m of depth is needed. It's a bit of a swim, but well worth it. Then a few Cape Town Freediving instructors and advanced students started exploring deep freediving spots off Partridge Point in a little boat named 'Madu'. This opened up another +15m of depth and deep freedives to 45m in the ocean became the norm. Unfortunately, finding more depth than 45m off the western side of False Bay isn't viable as the 60m contour curves back a few nautical miles off Batsata Rock and diving from a boat between 1 and 2 nautical miles off Cape Point Nature Reserve is not allowed. More depth was needed.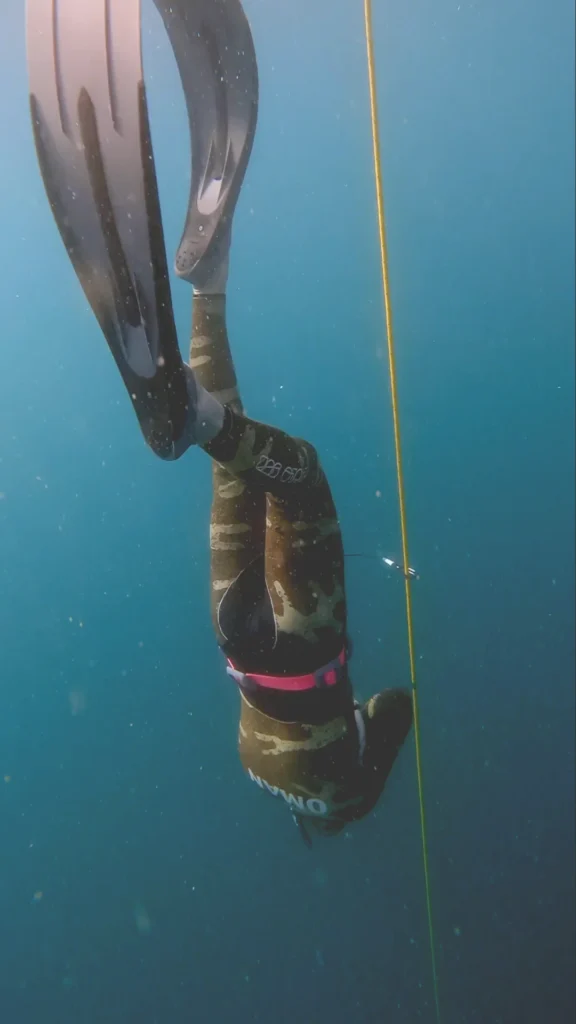 Now, just like the big wave surfers who pioneered surfing at Dungeons, our little group of deep freedivers have gone in search of more depth on the eastern side of False Bay. They have already found 65m of depth reasonably close to shore and will hopefully pave the way for a new generation of deep freedivers in Cape Town. Watch this space!